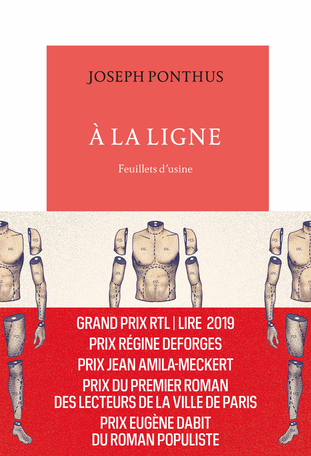 À la ligne
Feuillets d'usine
À la ligne est le premier roman de Joseph Ponthus. C'est l'histoire d'un ouvrier intérimaire qui embauche dans les conserveries de poissons et les abattoirs bretons. Jour après jour, il inventorie avec une infinie précision les gestes du travail à la ligne, le bruit, la fatigue, les rêves confisqués dans la répétition de rituels épuisants, la souffrance du corps. Ce qui le sauve, c'est qu'il a eu une autre vie. Il connaît les auteurs latins, il a vibré avec Dumas, il sait les poèmes d'Apollinaire et les chansons de Trenet. C'est sa victoire provisoire contre tout ce qui fait mal, tout ce qui aliène. Et, en allant à la ligne, on trouvera dans les blancs du texte la femme aimée, le bonheur dominical, le chien Pok Pok, l'odeur de la mer.
Par la magie d'une écriture tour à tour distanciée, coléreuse, drôle, fraternelle, la vie ouvrière devient une odyssée où Ulysse combat des carcasses de bœufs et des tonnes de bulots comme autant de cyclopes.
Vermillon
À paraître le 03/01/2019
Genre : Littérature française
272 pages - 140 x 205 mm
EAN : 9782710389668
ISBN : 9782710389668
Foreign Rights
Production Line. A Factory Diary
Rights sold
Norway (Aschehoug)
Presentation
À la ligne tells the story of a man of letters who finds himself employed as a casual worker in the fish canneries and slaughterhouses of Brittany.
More than anything else, À la ligne is like an epic song. With a style that is, magically, both simple and sumptuous, and by turn distanced, angry, funny and affectionate, he turns his working life into an Odyssey — except his Ulysses is fighting tons of cyclopean whelks, or beef carcasses heading to the rendering plant.
Reading his hypnotic verses and measured prose, we are immediately beguiled by this voice that can describe in infinite detail the activity of work, with the noise, the fatigue, the dreams lost in the repetition of tiresome rituals, the pain of an exhausted body. He gets it right every time, by stepping up the register, turning from anger to humor, from rage to love.
He catalogues everything that makes him wish for his working day to end as soon as possible. And he transforms it into a narrative that presents itself like a war diary, or like a devotional manuscript with its psalms, its acts of benediction, its prayers for the dead.
Starting a new paragraph ("à la ligne") creates pauses in the text. Here is the white space in which we encounter the woman he loves, Pok Pok the dog, his reading of prose and poetry, the bliss of Sundays, the smell of the sea.
À la ligne is a lyrical settling of scores: a way to get through everyday life, amidst the noise and smells of the factory, by summoning the poets he has loved, the writers who illuminated his childhood, his adolescence and his adult life. And with repetitive actions comes unique experience: during his work, with its mechanical activity, the memories come back to him. The narrator has led another life: he remembers his Latin lessons, he was a musketeer with Dumas, he was the lover of Lou and Madeleine with Apollinaire, he was nostalgic and joyful with the songs of Trenet, he did battle with Marx. This is his provisional victory against everything that hurts, everything that alienates, everything that could stand in the way of his paradoxical and invincible happiness of being in the world while surrounded by the horrors of industrialisation.
À la ligne is part of a tradition of proletarian literature, from Henry Poulaille to Robert Linhardt, via Georges Navel: a tradition that Joseph Ponthus revitalizes from top to bottom, adding a poetic dimension that, as Rimbaud would have it, opens up the hope of effecting change in our lives.
Joseph Ponthus was born in 1978. After studying literature in Reims and social work in Nancy, he worked for more than ten years in special education in the Paris suburbs where he directed and published Nous... La Cité (Éditions Zones, 2012). He now lives and works in Brittany. À la ligne is his first novel.
If you are interested in publishing one of our books or wish to receive further information, you can contact:
Anna Vateva, Foreign Rights : + 33 1 40 46 71 02
a.vateva@editionslatableronde.fr